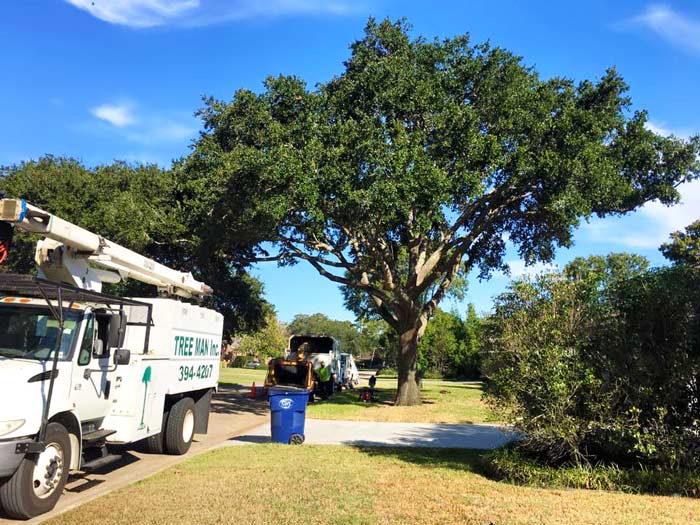 Understanding how to effectively account for and manage your property's existing trees is necessary to care for them properly. If you are looking for help preserving historic trees, counting inventory of the trees on your lot or receiving an appraisal of the value of your trees, Tree Man Inc. is here to help you!
As the premier tree expert in New Orleans, Gretna, and Timberlane, LA, our firm is able to provide a number of tree management services that can assist you with preserving historic trees, building an inventory of your arboreal collection and appraising the overall value of your trees as well as any damage that may have been incurred to them.
Management Services
Don't worry yourself with challenging tasks that are best approached by a professional. Leave tasks such as the following to a qualified service provider:
Tree inventory
We will help you build an inventory of your existing tree collection! Building out an inventory of your trees is the first step in establishing a long-term tree care plan, and is necessary for obtaining a wide range of tree care services.
Tree preservation
Our team is highly skilled at performing tree preservation work for historic trees during new construction projects as well as historic redevelopments. If you are concerned about keeping your old trees intact, our talented technicians can help. We are truly a full-service tree company in New Orleans, LA.
Mulch sales
Tree Man Inc. produces our own mulch to utilize and sell for landscaping purposes. We specialize in creating high-quality much products that are desirable for their aesthetic quality and moisture-locking traits.
Tree appraisal
We can appraise existing trees' value, and offer estimates of what damages have been incurred by storms or accidents. If you are seeking to cash in on an insurance claim, or are wondering what level of policy you should take out for your arboreal collection, contact one of our professionals today.
COMPLETE PALM SERVICES
Pruning by removing dead and lower Palm fronds and fruiting bodies as well as Pineapple Pruning.
RECURRING ANNUAL TREE MAINTENANCE
Pruning, Fertilizing, Termite treatments, Injections to treat for all chewing and biting insects especially the Buckmoth Caterpillar.
Click here to receive a customized quote today!
CALL FOR ARBORIST HELP IN NEW ORLEANS, LA
Contact us and call 504-394-4207 to learn more about how we can help you organize and account for all of your trees. Our dedicated service representatives can provide you with the tools you need for effective tree trimming, tree cabling, and more!